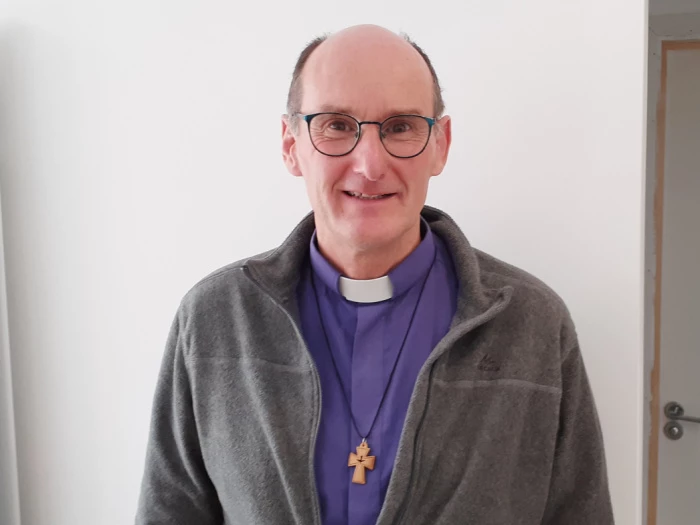 I was born in Hackney, and was christened in the 'Round Chapel Congregational Church', but from the age of 7 – 18 lived in Benfleet Essex. I was a big part of Thundersley Methodist Church, were my dad was senior steward.
I started in Hotel and Catering and moved lots before returning to London Balham as a residential Social Worker, Here I was a Scout leader with a Catholic church in Streatham. I later did my certificate of qualification in Social Work and moved to Eastbourne East Sussex again doing a number of jobs in Social work, schools' inclusion, community development. I did some work for what is now Action for Children.
Here I was involved mostly in a Baptist Church and ran a Scout Group in a Church of England. Scouting has been a big part of my life and in 2001 I had the chance to work in Nigeria as a Voluntary Service Overseas placement for 2 years. I was there to work with the Scout association and the Boys Brigade to set up a project for street children in the North East. Here I was arrested a few times thinking I was an American Spy. After 4 months I moved to the North East where I worked with two remote villages on small business development, Youth programmes and leadership.
It was in Nigeria I was troubled by prosperity, teaching in churches and challenged by Muslims praying 5 times a day on street corners. I returned to the UK and started my theological training with the Congregational Federation and then with Moorlands college, in total 5 years. My Christian journey has been up and down, but since 2003 in Nigeria has accelerated.
I was ordained in Wimbledon Congregational Church in Oct 2009 and left there in Dec 2016. I started my work with Anchor Church Wandsworth in April 2014 and God had helped us to reach out and engage with the community. I have done some work since in Zambia, Kenya and Malawi which has included preaching, teaching in leadership skills, first aid, small business.
I am looking forward to the next stage on my journey with the people of East Ham. I look forward to listening to your stories and seeing how together, we can continue to build Gods Kingdom here on earth. I have now been in Newham since Sept 2019. Do talk to me and let's journey together.